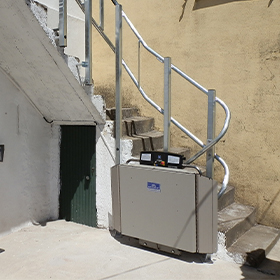 Product: Artira
Installed by: Rocargo Tecnomobile Lda
Location: Private residence in Penajóia, Portugal
Installation year: 2016
In the middle of the beautiful and famous wine region around Porto in Portugal, you will find a Garaventa Lift Artira. In 2016, our local Portuguese dealer, Rocargo Tecnomobile Lda., installed the lift in the small village Penajóia to make a residential house accessible.
A lot of older houses in Portugal have very narrow stairs that lead to the main living area. This Artira fits easily into most stairways and does not require extensive renovation or special construction. It was the perfect solution for this project and makes the owner's life much easier.
*Please note that code compliance varies around the world and this installation might not be compliant in your area.
About the Artira:
The Artira is an inclined platform lift designed to carry passengers up and down straight or curving stairways, over flat landings or over spiral staircases.
Highlights
Designed to fit your stairway
Indoor / Outdoor
Space Saver
Did you install an outstanding lift recently? Do you think one of your projects deserves to be Project of the Month? Send us pictures and a short story of your latest project at marketing@garaventalift.com
Contact us for more information