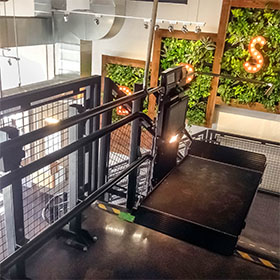 Product: Artira
Installed by: Hankin Speciality Elevators
Location: Decorative Plumbing Supply Inc. in San Carlos, California, USA
Installation year: 2017
An Artira is the ideal solution for accessibility in tight spaces, or where floor space is very valuable like in stores or restaurants. Our long-term dealer Hankin Speciality Elevators installed an Artira at the Decorative Plumbing Supply store located in the San Francisco Bay area in the US. The black color blends in perfectly with the staircase and matches the interior design of the shop. Customers in wheelchairs or those with limited mobility, can now easily travel between the floors of the shop.
Thank you Hankin Speciality Elevators for this fantastic installation and for carrying forward the Garaventa Lift brand!
About the Artira 
The Artira is an inclined platform lift designed to carry passengers up and down straight or curving stairways, over flat landings or over spiral staircases.
Highlights
Designed to fit your stairway
Indoor / Outdoor
Space Saver
Did you install an outstanding lift recently? Do you think one of your projects deserves to be Project of the Month? Send us pictures and a short story of your latest project at marketing@garaventalift.com
Contact us for more information