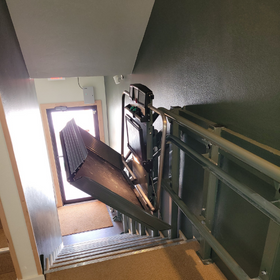 Our goal is to make the world more accessible. Often it happens that in public places you can find yourself in front of steps or slopes that deprive you of living your day according to your desires and needs. When the architectural barrier is a drop of a few meters you can rely on a Garaventa Lift.
This custom powder coated Artira was installed at the Stumptown Inn a remodeled hotel in the heart of Whitefish, Montana. Whitefish is a resort town in the Rocky Mountains of northwest Montana. It's a gateway to the jagged peaks, lakes and glacier-carved valleys of Glacier National Park.
From the custom color, to the inset post and flush mount controls, landing park position and custom mounted battery backup, this project is a unique installation was custom built to complement the beautiful ambiance of this pleasant town.
Thank you Access Outfitters for this fantastic installation and for carrying forward the Garaventa Lift brand!

About the Artira: 
The Artira is an inclined platform lift designed to carry passengers up and down straight or curving stairways, over flat landings or over spiral staircases.
Highlights
Designed to fit your stairway
Indoor / Outdoor
Space Saver
Did you install an outstanding lift recently? Do you think one of your projects deserves to be Project of the Month? Send us pictures and a short story of your latest project at marketing@garaventalift.com
Contact us for more information