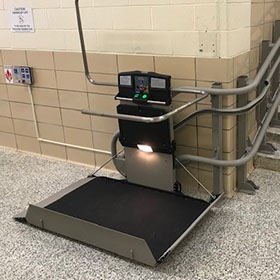 Product: Artira
Installed by: Bedco Mobility Inc.
Location: Riverview Elementary School in Halethorpe, Maryland, USA
Installation year: 2019
As part of a larger Baltimore County Public Schools renovation project over the summer our longterm partner Bedco Mobility replaced and modernized 9 inclined lifts for the school system. One big installation was the replacement of an obsolete and broken carrier wheelchair lift at the Riverview Elementary School in Halethorpe, MD. A big thank you to Bedco for their fantastic and dedicated work!
About the Artira: 
The Artira is an inclined platform lift designed to carry passengers up and down straight or curving stairways, over flat landings or over spiral staircases.
Highlights
Designed to fit your stairway
Indoor / Outdoor
Space Saver
Contact us for more information