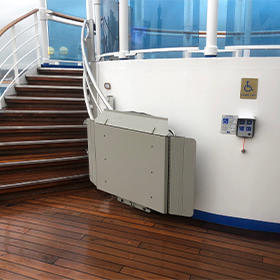 Product: Artira
Installed by: Garaventa Lift
Location: Princess Cruises
Installation year: 2018-2019
Did you know that in the past years Garaventa Lift has installed several Artiras on cruise ships? You will find most installations on the popular cruise line 'Princess Cruises'. With the availability of many colors and finishes, this wheelchair lift blends in with any decor. It is the ideal solution for accessibility in tight spaces.
With Covid-19 restrictions loosening up, we can start dreaming again of a future sea adventure.
About the Artira: 
The Artira is an inclined platform lift designed to carry passengers up and down straight or curving stairways, over flat landings or over spiral staircases.
Highlights
Designed to fit your stairway
Indoor / Outdoor
Space Saver
Did you install an outstanding lift recently? Do you think one of your projects deserves to be Project of the Month? Send us pictures and a short story of your latest project at
marketing@garaventalift.com
Contact us for more information