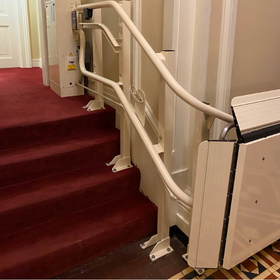 For many people with limited mobility, problems related to the environment, such as stairs or steep slopes can be a real hindrance when it comes to doing various activities. These issues are addressed by the inclined platform lift, which allows you to move up and down the staircases while ensuring accessibility and safety. This makes it suitable for both private and public places.
Congratulations to the Garaventa Lift Branch in Ontario for winning project of the month of November! The team installed an Artira at Osgoode Hall in Toronto, which is designed for indoor operations. The Artira was custom painted to match the architecture, and it looks wonderful.
Osgoode Hall is a landmark building in downtown Toronto, Ontario, Canada. The original 2+1⁄2-storey building was started in 1829 and finished in 1832 from a design by John Ewart and William Warren Baldwin. The structure is named for William Osgoode, the first Chief Justice of Upper Canada (now the province of Ontario). It currently houses the Ontario Court of Appeal, the Divisional Court of the Superior Court of Justice, the offices of the Law Society of Ontario and the Great Library of the Law Society.
About the Artira: 
The Artira is an inclined platform lift designed to carry passengers up and down straight or curving stairways, over flat landings or over spiral staircases.
Highlights
Designed to fit your stairway
Indoor / Outdoor
Space Saver
Did you install an outstanding lift recently? Do you think one of your projects deserves to be Project of the Month? Send us pictures and a short story of your latest project at marketing@garaventalift.com
Contact us for more information