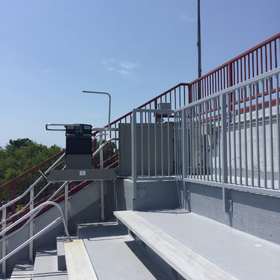 Congratulations to our dealer Access Elevator & Lifts, Inc. for winning project of the month of August! The Team installed an Artira at the Junge Stadium in Joplin Missouri which is designed for outdoor operations.
It is primarily composed of stainless steel tubes, a sensing plate, and a drive box. The truly unique feature of this project is a Genesis OPAL gate located at the upper landing to provide a barrier for people to avoid using the stairway. This is extremely rare and custom, and it was explicitly requested by the Architect.
Thank you Access Elevator & Lifts, Inc. for this fantastic installation and for carrying forward the Garaventa Lift brand!

About the Artira: 
The Artira is an inclined platform lift designed to carry passengers up and down straight or curving stairways, over flat landings or over spiral staircases.
Highlights
Designed to fit your stairway
Indoor / Outdoor
Space Saver
Did you install an outstanding lift recently? Do you think one of your projects deserves to be Project of the Month? Send us pictures and a short story of your latest project at marketing@garaventalift.com
Contact us for more information