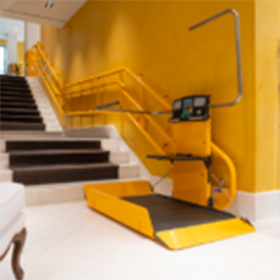 Our longtime partner, McKinley Elevator Corporation, installed two Artira inclined platform lifts at the House of Bijan, a very high-end menswear store in Beverly Hills, California, and inspired the April Project of the Month – Congratulations!
The installation of the Artira was part of a complete renovation of the store and involved a lot of site coordination. A general contractor supplied the posts, and McKinley's crew had to work closely with the architect to ensure that the installation matches the store's design and look. Thanks to the great work of McKinley, the client's and architect's high expectations were fully satisfied, and the House of Bijan is wheelchair accessible thanks to two yellow Artira inclined platform lifts.
 
Did you install an outstanding lift recently? Do you think one of your projects deserves to be Project of the Month? Send us pictures and a short story of your latest project at marketing@garaventalift.com.