Evacutrac - Evacuation Chair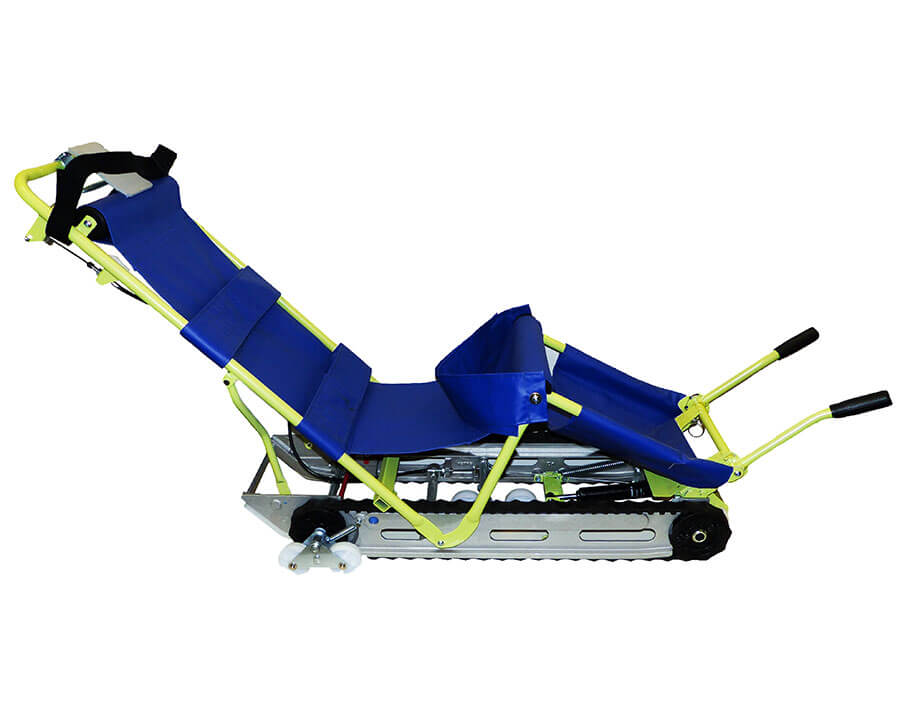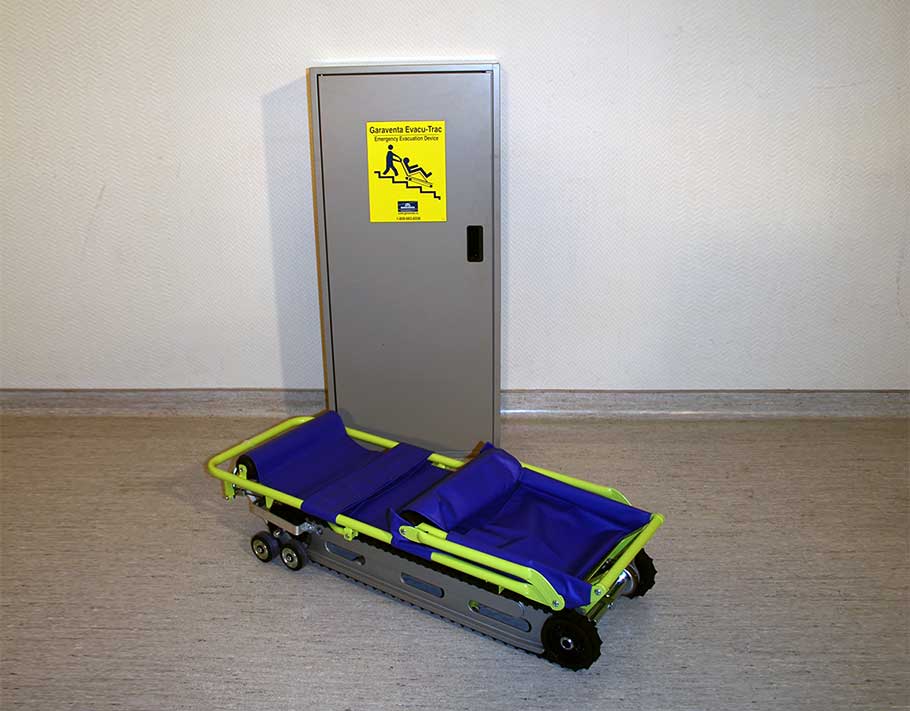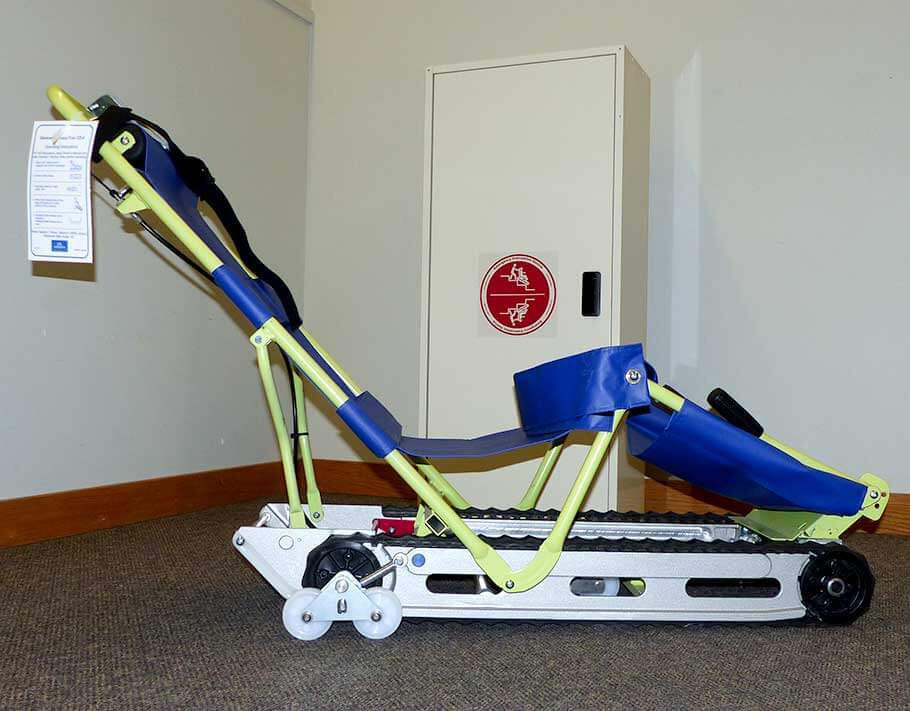 EvacuTrac - Evacuation Chair
Does your emergency evacuation plan include an evacuation chair for someone with a mobility-related disability? In the event of a fire or earthquake, elevators should not be used for the emergency evacuation of a building. In this situation, people with limited mobility may be trapped or have to wait for a prolonged period of time in an area of refuge.
Designed so that a small attendant can easily move a much larger passenger down the stairs, the Evacu-Trac is easily set up and ready for a passenger to transfer from their wheelchair to the comfortable sling seat. This evacuation chair has durable rubber tracks that firmly grip the stairs and the safety brake can stop the unit on the stairs if necessary. The Evacu-Trac is completely stable and self-supporting on flat surfaces and during descent.
---
Highlights:
The safest evacuation chair!

One person operation

Lower transfer height

Easy to operate

Speed Governor

Fast deployment

Low center of gravity
---
More information can be found in the Downloads
Downloads
---
Direct Factory Supply
Evacu-Trac can be purchased directly from the Garaventa Lift factory. We have a dedicated evacuation chair sales specialist who can be reached Toll Free at 1-866-824-8314 or email to: productinfo@evacu-trac.com
The Evacu-Trac(s) will be shipped directly to your building site. Evacu-Trac is ready to use out of the box. It is supplied complete with a comprehensive owner's manual and operator training DVD. Shipping is normally within 48 hours of order receipt.
If you prefer, Evacu-Trac can also be purchased through our network of Authorized dealers. However, please note all US Government GSA contract purchases must be handled directly by the Garaventa factory.
---
Factory Quote Request
For a direct factory quotation within 24 hours please complete our Quote Request Form.
Large Quantity and National Account Discounts
Significant discounts of up to 30% are available for large quantity purchases for a single site and for government or corporations purchasing evacuation chairs for multiple sites. Site demonstration visits and hands on training is also be available. Contact us for more information on large quantity purchases.
Demo Units Available - Try Before You Buy!
The design of emergency evacuation chairs is unregulated. These products are vastly different in design, performance, comfort and usability. Be sure to try before you buy! We are confident Evacu-Trac will be your first choice! Contact us to request loan of an Evacu-Trac demo unit.
---
Operating the Evacu-Trac evacuation chair
The Evacu-Trac evacuation chair is normally kept in a storage cabinet located near the upper stair landing, ready for use in an emergency situation.
Remove the evacuation chair from the storage cabinet and place the unit on a flat surface. Grasp the handle and pull it up in a quick, smooth motion. This will lock the Evacu-Trac in the open position.
Transfer passenger from their wheelchair to the Evacu-Trac. Three Velcro straps are provided for securing the passenger. These straps help immobilize an injured person or help transport a person with no upper body control. The lower torso straps allows a younger passenger to be well secured while being transported in the emergency stair chair.
The Evacu-Trac brake is normally on. To descend the stairs, release the brake by slowly squeezing the brake lever. Descent speed can be slowed by reducing pressure on this lever. A governor limits the maximum descent speed to about 3' per second, allowing even a small attendant to safely transport heavier riders.
It is recommended to use the inside of the stairway to allow room for other traffic and to make it easier to turn corners at stairway landings.
On stairs, the tracks securely grip the stair noses and control the descent speed regardless of the stair covering. On flat surfaces, the evacuation chair can be pushed on its wheels as easily as a stroller. This feature allows the user to be transported to an area clear of the emergency rather than to an area of refuge.
Once clear of the emergency area, park the evacuation chair on a flat surface and engage the brake by releasing the bar.
---
Features of the Evacu-Trac Evacuation Chair
The Evacu-Trac evacuation chair should be kept in any multi-storey building where disabled people live, work, or visit. It provides a fast safe and reliable means of evacuation. This easy to use evacuation device is equipped with many safety features and most importantly, provides people with limited mobility an equal opportunity for escape in an emergency.
Quick and easy set up for immediate use.

Carries up to 300 lbs.

Passenger's weight moves unit downstairs, while the speed governor controls descent speed.

Failsafe brake brings unit to a complete stop automatically.

Sling seat is made of fire-retardant fabric and is easy to clean.

Three adjustable safety straps.

Stable and self-supporting.

Unique seat design allows easy transfer from wheelchair.

Durable tracks grip stairs securely, regardless of the stair construction material.
---
Provides quick and safe emergency evacuation.

Eliminates prolonged waiting in an area of refuge.

No hand carrying of people with limited mobility.

Small attendants can easily move heavier passengers.

Easily stores in a secure area when not in use.

Peace of mind for building occupants and owners.

Requires minimal maintenance.

Available immediately.
---
Evacu-Trac - Emergency Evacuation Plan
Do you have an emergency evacuation plan that meets the needs of everyone?
During an emergency such as a fire or earthquake, the law states elevators can't be used. This means that people with disabilities, or anyone who can't use the stairs may be trapped by the elevators that gave them access to the upper stories.
An evacuation plan should include everyone, not just those who are able bodied. Understanding an evacuation plan is crucial. Regular practice drills are part of emergency plan and provide a means of evacuation for everyone, including people who can not use the stairs by themselves.
An example evacuation plan:
The U.S. Access Board is an independent Federal Agency devoted to accessibility for people with disabilities. This site outlines their emergency evacuation plan that accommodates persons with disabilities. Click here to go to the U.S. Access Board's Evacuation Plan.
The Access Board has also provided some background information on how they designed their evacuation plan to meet the needs of their employees.
Specifications
---
Load Capacity:
182kgs/400lbs
Speed:
1.1(3.6ft)/sec*

*varies with weight

Maximum Stair Angle:
40°
Weight:
20.7 kg/46 lbs
Speed Restriction:
by hydraulic governo
Manual Stop brake on stairs.

Dimensions

Operating
Length:
1310mm/51.6in
Width:
426mm/16.8in
Height:
810mm/31.9in

Folded

Length:
1100mm/43.3in
Width:
426mm/16.8in
Height:
270mm/10.6in

Storage Cabinet (optional)

Height:
1151mm/45.3in
Width:
508mm/20.0in
Depth:
279mm/11.0in

Clearances

The diagram above shows typical clearances required on turn-back stairways. Dimensions vary with stairway width and operator experience. Consult Garaventa Lift or your local Garaventa Lift Representative for clearance verification.
Downloads
---