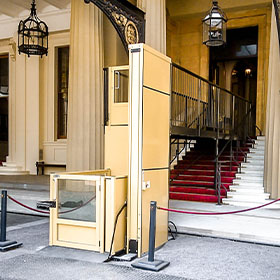 Product: Genesis OPAL
Installed by: Garaventa Lift Europe
Location: Buckingham Palace, London, United Kingdom 
Installation year: 2006
Did you know that Buckingham Palace in London uses a Garaventa Lift OPAL to ensure accessibility? The lift was manufactured in a custom colour to match the unique colour of Buckingham Palace. Since 1837 the building has served as the official London residence of the UK's sovereigns and today it represents the administrative headquarters of the Monarch. The palace is often at the center of state occasions and royal hospitality.
About the Genesis OPAL:
The Genesis OPAL vertical lift easily transports passengers up and down short vertical distances, for applications such as stages and porches. The platform walls, platform gate and optional automatic folding ramp travel with the platform creating a safety barrier around the passenger.
Highlights
No shaft construction
Modular
Indoor / Outdoor
Aluminium enclosure
Did you install an outstanding lift recently? Do you think one of your projects deserves to be Project of the Month? Send us pictures and a short story of your latest project at marketing@garaventalift.com
Contact us for more information