Home Elevators
Home elevators, sometimes referred to as residential elevators, are elevators that are designed and manufactured specifically for use within a single private residence. They are considered a type of "Special Application Elevator". There are safety codes and standards which are published specifically to regulate this equipment. All home elevators manufactured by Garaventa Lift and installed by authorized Garaventa Lift representatives meet or exceed all local and national safety code requirements.
Why Garaventa Lift?
Reliable - reliable products, on-time deliveries, local service
Safe - passenger safety, public safety, safe practices
Innovative products, design creativity, unique solutions
Wide range of wall materials and fixture finishes
Custom made to fit your house layout and decór
Installed and serviced by local, factory-trained technicians
Models Available
Elvoron MR - No Machine Room, 2hp In-Line Drive Electric Motor, No Hydraulic Fluid
Elvoron HR - Compact Drive Cabinet, 3hp Submersed Hydraulic Pump Motor, Aircraft-Quality Steel Suspension Cables
Elvoron Stella - Sliding Elevator Doors, 1400 lb. Capacity, Luxury Hydraulic Elevator for Residences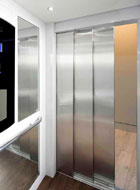 750 lb or 1000 lb capacity is standard
Optional 3-speed Horizontal Sliding Doors
Hydraulic (HR) or In-Line (MR) Drive Systems
17 available wall finishes
Brushed stainless steel fixtures are standard. Premium fixtures are available in four finishes
Low-voltage LED lighting
Home Elevator Cost
What can you expect to pay for an elevator in your residence? What are the factors that affect cost of home elevators ?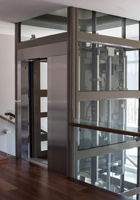 1400 lb capacity
Heavy duty Hydraulic Drive System
2-speed Horizontal Sliding Doors
Larger cabs available
17 standard wall finishes